PICTURES

It's that time of the year to order your Football pictures. As an Athlete, you start out very young in playing your football.  It takes you years of devotion, dedication and hours of practice.  Our sports pictures allows you to celebrate your years of hard work.
Please take a minute and read everything on this page. We don't want you to miss out on anything.
BTHS football pictures are broken down into two Galleries. Varsity and JV
Please select the correct Gallery when ordering pictures.
Both Galleries will expire on November 30th. Don't delay if you wish to order pictures.
As you enter each gallery you will see finished images on a background and un-funished images on a white background. Once you place an order each image will be finished in a background, Cropped at the Knees, printed and shipped directly to your home. Orders can take up to 3 to 4 weeks.
Digital images can take up to 72 hours and will be emailed to you.
THE PICTURE GALLERY WILL ONLY BE POSTED FOR A SHORT TIME. ORDER YOUR PICTURES TODAY!

WE OFFER INDIVIDUAL PRINTS, PACKAGES AND INDIVIDUAL DIGITAL IMAGES
Our 1 pose digital package for $49. Individual pose only

Our 2 pose digital package for $79. Individual pose only

WE DO NOT SELL THE TEAM PICTURE AS A DIGITAL IMAGE
IF YOU JUST WANT DIGITAL IMAGES AND NO PRINTS, CHECK OUT OUR DIGITAL PACKAGE
 Below are samples of Finished images on a background. Each background may be different depending on the team.
Varsity Senior Background (personalized)

Varsity Background (Not Personalized)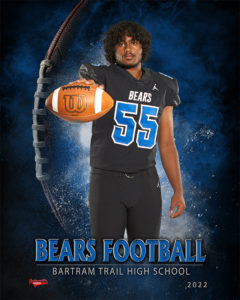 Junior Varsity Background (Not Personalized)