PICTURES ARE READY!
  Please select the link below to enter your  players gallery.  Before entering the gallery please read the ordering instructions.

 We offer Individual Prints, and Specialty products that can only be ordered at specific sizes. Please read the information below for these sizes.
Don't delay to order pictures. Special pricing will end on June 13th.
Jax Beach Allstars images are broken down into four Team Galleries. Please choose the correct Team Gallery that your player is on.
As you enter the gallery you will see finished images on a background and un-finished images on a white background. Once you place an order each image will be finished in the sample background, printed and shipped directly to your home. Orders can take up to 3 weeks.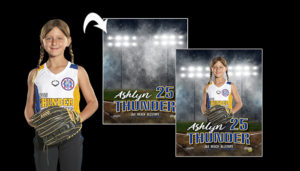 All of our Allstars and Travel Ball pictures are personalized with players name and number.

Our MOST POPULAR products for Allstars is our 8×10 Dual pose prints, Bag tags and our individual 2×3 Player Banners. Players love to hang up banners in there room.

 Below are samples of Finished images on a background.
8X10 DUAL PRINTS $32.00
8X10 Dual Prints are offered for purchase as an 8×10 print only.  NOT AVAILABLE AS SMALLER PRINTS OR PRODUCTS.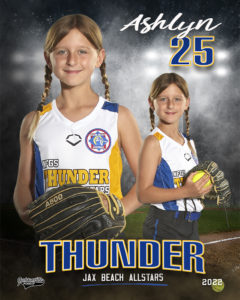 INDIVIDUAL IMAGES

Each player will have two images. The team image and the banner image. Individual images can be ordered as prints, products and Banners.
 BAG TAGS

DON'T FORGET TO ORDER YOUR TWO SPORTS BAG TAGS.    two bag tags for $15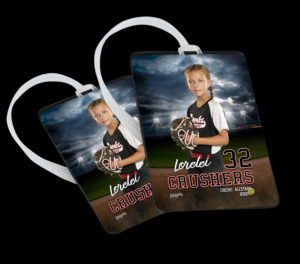 Something NEW!
Two pose 17 inch Canvas Home Plates $49.00 to $69.00

Your image is printed on canvas and stretched around a wood frame in the shape of a home plate. Our Canvas Home Plates are one of a kind and can't be found anywhere else!

Canvas Home Plates are not listed in the gallery. If you want a Canvas Home Plate of your very own give us a call or email us at nunesj@sonic.net.