Your love for your car is like a member of the family. You've spent countless hours, caring for and polishing it. Don't settle for a cell phone snap shot of it after all your hard work.
At JSP, we love cars. It's as much of a passion as photography itself. Let us photograph your car to show your pride on your walls at home, garage, or at the next car show.
Let us create an Art piece of your car that is truly Unique!
We offer a variety of products such as our Break Out Posters, Show Boards, Banners, License Plates, Dog Tags, Mouse Pads, Buttons, Water Bottles, Racing Banners, Driver Cards, Car Show Lanyards, Masks, etc.
CAR SHOW BOARDS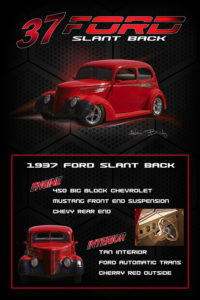 We offer two options to creating any of our Products.  For the Highest Quality of images we recommend allowing us to photograph your vehicle if we live local.  If that is not possible, you can submit Digital Images to us through our Website.  For more information contact us at nunesj@sonic.net or call our office at 904.201.9773
Check out our Gallery for more Images!
RACING BANNERS

RACING DRIVER CARDS