DON'T GET LEFT OUT! ORDER YOUR SPORTS PICTURES ONLINE TODAY!
It's that time of the year to order your Sports Pictures. As an Athlete, you start out very young in playing your sport.  It takes you years of devotion, dedication and hours of practice.  Our Sports Pictures allows you to celebrate your years of hard work.
DID YOU MISS ORDERING SPORTS PICTURES? You can still order pictures by using the link below.
To order your players pictures online click on the link below:
Please check out our ordering package options before ordering pictures
Orders will be printed and shipped direct to your home, unless otherwise noted. Orders can take up to 3 weeks for printing and shipping.
PICTURE PACKAGE OPTIONS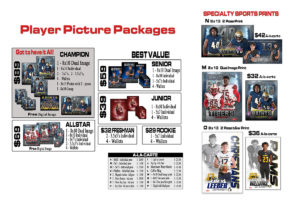 VERY IMPORTANT: Pictures will NOT be posted online. Once your order has been placed we will select the best pose.