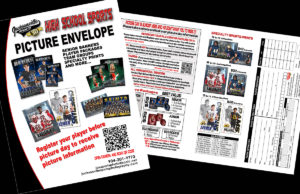 BE PICTURE DAY IS AROUND THE CORNER AND WE DON'T WANT YOU TO MISS OUT!
Please take a minute and go over the picture information below
Please Register your player for picture day
Please take a minute and Register your player for picture day. You will receive
additional picture information, picture day specials, picture day reminders and more.
We don't want you to get left out.   REGISTER PLAYER
VERY IMPORTANT: Pictures will NOT be posted online
 If you wish to order pictures you will need to fill out a picture envelope and have your player bring it on picture day. Don't forget to add payment in your envelope. Payment must be made on picture day.
Prepay your pictures online
 If you would like to use a credit card to order pictures, you can prepay for them online. Select the link to the right, called prepay and follow the prepay instructions. Once paid, bring your picture envelope filled out as well as your printed receipt on picture day.
If your Son or Daughter is in 8th Grade and your school participates in our banner program, look for an 8th grade Individual Banner order card in the pocket of this picture envelope. If you did not receive a card, either your school does not participate in our program, or you will need to pay for your Individual Banner directly to the team . Let us know if you have any questions.
All 8th Grade Individual Banners are paid for online and must be paid before picture day.