IT'S SOON TO BE FOOTBALL SEASON AND JACKSONVILLE SPORTS PHOTOGRAPHY WOULD LIKE TO BE YOUR
SPORTS PHOTOGRAPHER!

We would like to take your sports pictures to the next level!
Our program of Team and individual photography offers a large variety of unique products, such as
personalized league graphic enhanced designer prints.

Take a look at our Football & Cheer Website. But before you do check out our
NEW! Online Youth Football PLAYBOOK
YOUTH FOOTBALL and CHEER Website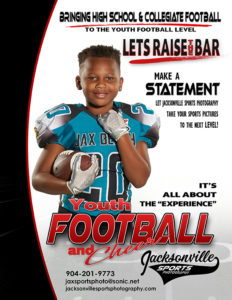 CAN YOUR CURRENT PHOTOGRAPHER DO THIS!
Let Jacksonville Sports Create a League Wide Banner.


Check out our Football & Cheer Website!  Or better yet, just give us a call Now!

1-904-201-9773 Or send us an email nunesj@sonic.net